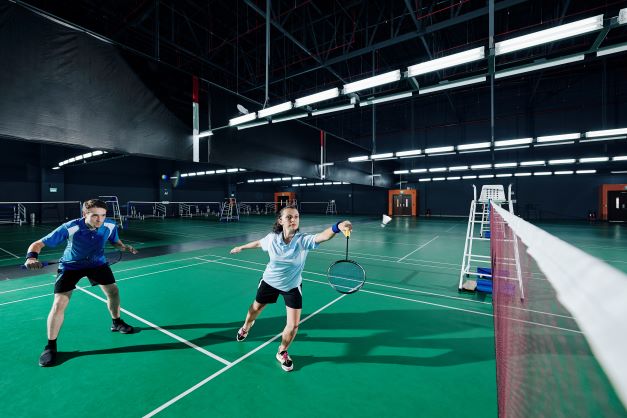 Badminton Skills for Beginners
Badminton is a sport that is easy to pickup for beginners, but hard to improve and ultimately master. In this post, we will explore a few vital skills for beginners to learn to set out on their journey of badminton improvement and mastery. Even if you are higher level than just a beginner, you can find useful tips in this post to improve your game as a whole!
Footwork
We always want to rush on the court with our friends and hit the bird over the net, over and over - it's just so much fun! However, to improve your skills and badminton and get to the next level, it's important to work on your basics, such as footwork.
In badminton, footwork is the specific sequence of steps you will take to get to some location on the court. When starting out, your instincts may be just to run around on the court and chase after the bird. However, this is not the most efficient, not the quickest, and can lead to you missing the shot.
Footwork is at the root for all badminton players. If you can't reach the bird, you can't hit it — and if you can't hit it, you won't win the point.
Basic Shots
The next important basic skill for beginners are the basic shots in badminton. Generally, we will define these as:
Clears - shots that go high and far to the back of the court.
Drops - shots that go low and tight to the front of the court.
Drives - shots that are low and flat to the middle area of the court.
Smashes - attacking shots that are hit from a high point, designed to go at a sharp angle downwards with a lot of power and sharpness.
Of course, there are many other shots in badminton as well as different advanced variations of each of these shots, but learning the basics of these 4 shots will already help you on your way to becoming a higher level badminton player.
General Fitness
Badminton is not an easy sport. You have to be fit enough to run around all over the court while having the hand-eye coordination to have your racket contact with the shuttle. Over the course of 21 points in each game, this can get extremely exhausting!
This is not to say that if you are currently not fit, you can't play the sport. Start slowly and as you feel yourself getting more accustomed to the movements in badminton, you can start advancing your game. You can also spend time off the court in light conditioning exercises such as running or jump rope to improve your fitness level and make the game on the court even easier.
Willingness to Improve
Badminton, like many other sports, requires a strong willingness and openness to learn and improve. You need a lot of time, patience, repetition, and practice in order to make your shots higher quality and even improve your fitness level.
If you love the sport (just like we do at Badminton Warehouse), stay committed on this journey to improve your skills! For any other gear, make sure you check around our store to help you get started on this journey — we have appropriate gear for players of all skill levels.