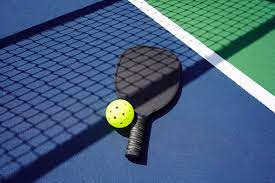 Benefits of Pickleball!
Pickleball is a popular paddle sport that combines elements of tennis, badminton, and table tennis. Here are some benefits of playing pickleball:
Improves physical health: Pickleball is a low-impact sport that can help improve your cardiovascular health, endurance, strength, balance, and agility.

Socialization: Pickleball is a social sport that can help you meet new people and make new friends. It is a great way to spend time with family and friends while being active.

Mental Health: Pickleball can help improve your mental health by reducing stress and anxiety. It can also help boost your mood, confidence, and self-esteem.

Low risk of injury: Pickleball is a low-impact sport that is less likely to cause injuries compared to other high-impact sports like basketball or soccer.

Suitable for all ages and abilities: Pickleball is a versatile sport that can be played by people of all ages and skill levels. It is a great way to stay active and healthy for both young and old.

Fun and exciting: Pickleball is a fun and exciting sport that can help you develop your hand-eye coordination, reflexes, and problem-solving skills. It is a great way to challenge yourself and have fun at the same time.
Check out some of the great Pickleball Gear at Badminton Warehouse!