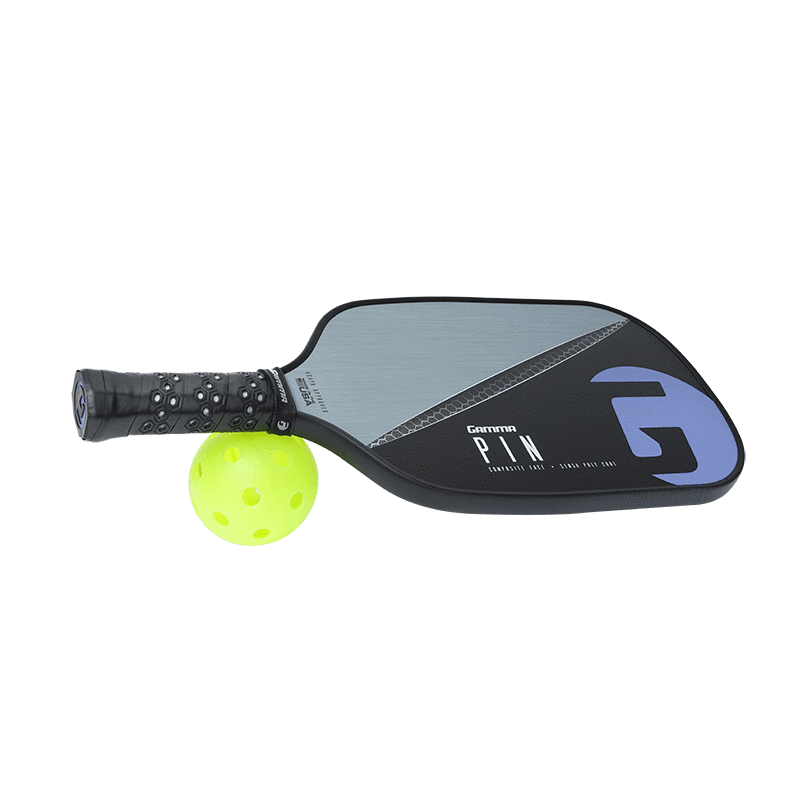 Gamma Pin Elongated Premium Pickleball Paddle
With a textured fiberglass face, the Gamma Pin Elongated Premium Pickleball Paddle provides an incredible level of control and a top-level design to allow extra power in your shots. Colored in black and pale blue, this paddle has an elongated shape, which allows for greater flexibility and versatility on the court, as the movement required to move across the court or even to get low for groundstrokes. With a price of $80, this paddle is best suited for more experienced pickleball players, but its great level of control could also prove beneficial for developing players as well. Here are some of the specs for the Gamma Pin Paddle:
Gamma Pin Elongated Premium Paddle Highlights:
Weight Average: 8.0 ounces

Weight Range: 7.9-8.1 ounces

Grip Size: 4 ⅛" (Can vary by ⅛")

Grip Length: 4 ¼"

Paddle Width: 7 ⅛"

Paddle Length: 16 ⅝"

Paddle Face: Fiberglass

Made in the United States
Power: 8.5
The Gamma Pin Elongated Premium Paddle comes with power that is unlike most paddles. With its weight and paddle length/width being above average, the production of power is greater than other pickleball paddles. In addition, the fiberglass provides a perfect balance between power and control while hitting. With this paddle, the phrase "With great power comes great responsibility" does not apply. The power generated from this paddle is greatly complemented by the paddle's control, allowing a greater threshold in the amount of power put into a shot. 
Maneuverability: 7
Despite the length and weight of this paddle, its maneuverability is barely affected. It might seem tougher to control the paddle due to its elongated face, but in reality, the elongated face increases the paddle control, allowing you to have more maneuverability in your groundstrokes. In fact, the length of the paddle makes it easier to maneuver yourself around the court in less time. This is vital for decreasing the amount of time it takes to move across the court, and this paddle also enables you to hit groundstrokes without having to get low. Considering the technical specs of the Gamma Pin Elongated Paddle, its maneuverability is greatly underrated and useful while playing.
Control: 9.5
In addition to the amazing power and maneuverability that comes with this paddle, the most impressive feature is its control. Drop shots and short angles to pull your opponent off the court have been made much easier because of the Gamma Pin Paddle's great control. While still being able to hit good groundstrokes, this paddle control greatly contributes to your frontcourt and midcourt game. With the paddle's elongated face, control is a given, and the addition of power and maneuverability makes this a truly premium paddle.