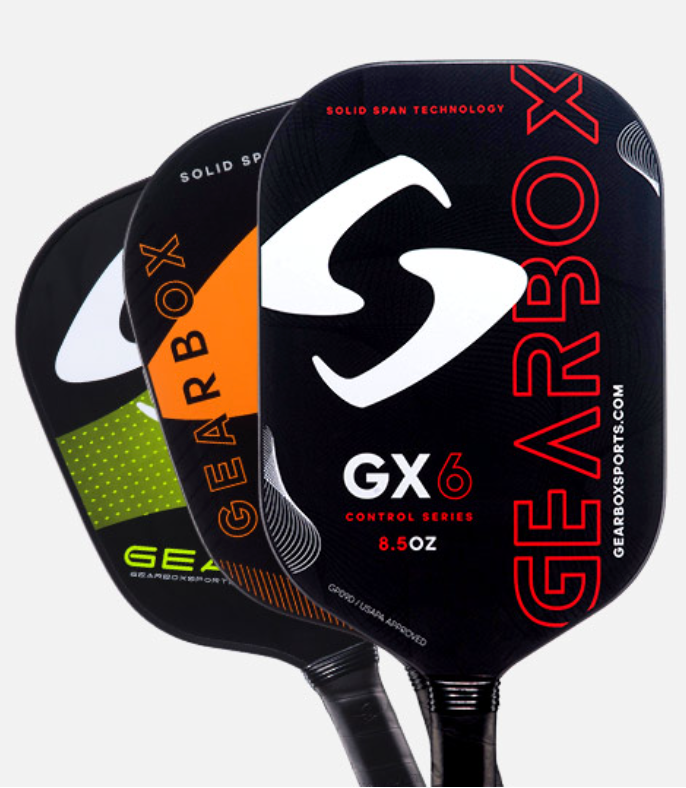 Gearbox Pickleball Paddles, Durability personified!
What makes Gearbox Pickleball Paddles so popular? Gearbox Pickleball Paddles are among the best paddles available on the market today. These paddles are highly respected by pickleball players of all levels, from beginners to professionals. Here are some of the reasons why:
Construction: Gearbox Pickleball Paddles are made of high-quality materials. The paddle surface feature aerospace-grade carbon fiber, which makes them extremely durable and long-lasting. The carbon fiber also makes the paddles lightweight, which allows for faster swing speeds and greater control over the ball. The core is made with Carbon Fiber Chambers making for consistent feel and sound on each and every shot. 
Design: Gearbox Pickleball Paddles have a unique design that sets them apart from other paddles. The paddles have a distinctive "teardrop" shape, which provides players with a larger sweet spot for hitting the ball. The shape also allows for more power and spin on shots, giving players an advantage over their opponents.
Wide Selection of models: Gearbox Pickleball Paddles come in a variety of different models to suit different playing styles. The paddles range from beginner models to advanced models designed for professional players. Each model has its own unique features and benefits, allowing players to find the perfect paddle for their game. 
Brand Recognition: Gearbox is a reputable and trustworthy brand in the world of pickleball. The company is committed to producing high-quality products that meet the needs of players of all levels. Gearbox also offers excellent customer service, making it easy for players to get the support they need when they need it.
In conclusion, Gearbox Pickleball Paddles are an excellent choice for anyone looking for a high-quality, reliable paddle. With their durable construction, unique design, and range of models, Gearbox paddles are sure to meet the needs of any pickleball player.