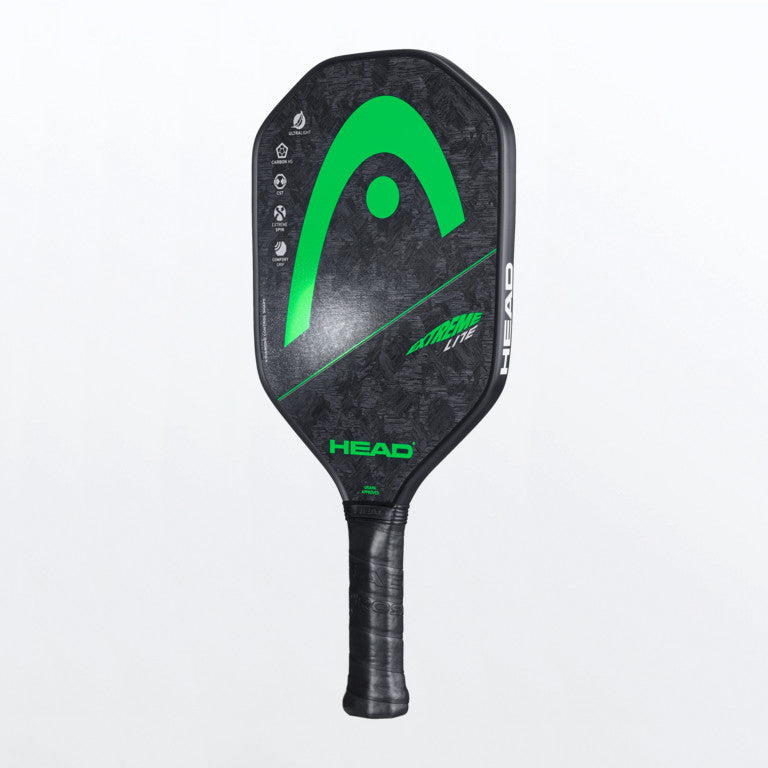 Head Extreme Lite Pickleball Paddle, consistency personified
Whether you want a light or heavy, diamond or elongated, and aluminum or polymer core pickleball paddle, Head has it. Today, BW highlights the Head Extreme Lite pickleball paddle containing new cutting edge technology which will elevate your game to the next level.
To begin, some details about the Head extreme lite paddle. Weighing in at 7.2 ounces, this paddle is a bit lighter than the average paddle. This paddle also contains a polypropylene honeycomb core with a graphite hitting surface. 16 inches long, this paddle presents an octagon shape and a Head HydroSorb grip. 
Featuring the carbon graphite surface, the Head Extreme Lite paddle provides a great amount of control and maneuverability. While the carbon graphite surface may not generate as much power on the paddle, it makes up for that in its ability to assist in placement and control. However, it's lightweight feel will provide the paddle speed necessary for great accuracy and reaction. For a player who likes to place the ball and move their opponent around rather than win with power, this paddle will help do just that.
Many may think that stability is sacrificed because of its lightweight nature., Head has more than made up for this by incorporating Control Stabilizer Technology (CST). CST allows for improved torsional stability as you hit the ball. Working alongside the carbon graphite surface, CST will elevate the control and accuracy of this paddle by adding the extra element of stability.
Another aspect to this paddle is its expanded sweet spot. This enables the player to still hit an accurate and powerful shot even though they may not be right on the sweet spot every time. This proves beneficial for all players. Its forgiving nature allows the player to still hit an accurate shot even when out of position or when the ball is mishit.
Finally, this paddle highlights a polypropylene honeycomb core. With larger honeycomb cells, this type of core is extremely durable. While it has a softer material which sometimes sacrifices control, the other technologies make up for this weakness in the core. However, the honeycomb core also brings the power and "pop" that the carbon graphite surface may lack. 
From the carbon graphite surface to the polypropylene honeycomb core, each part of this paddle highlights and works in harmony with the other. All in all, each aspect of this paddle is balanced by another, making it a very even and foolproof paddle.