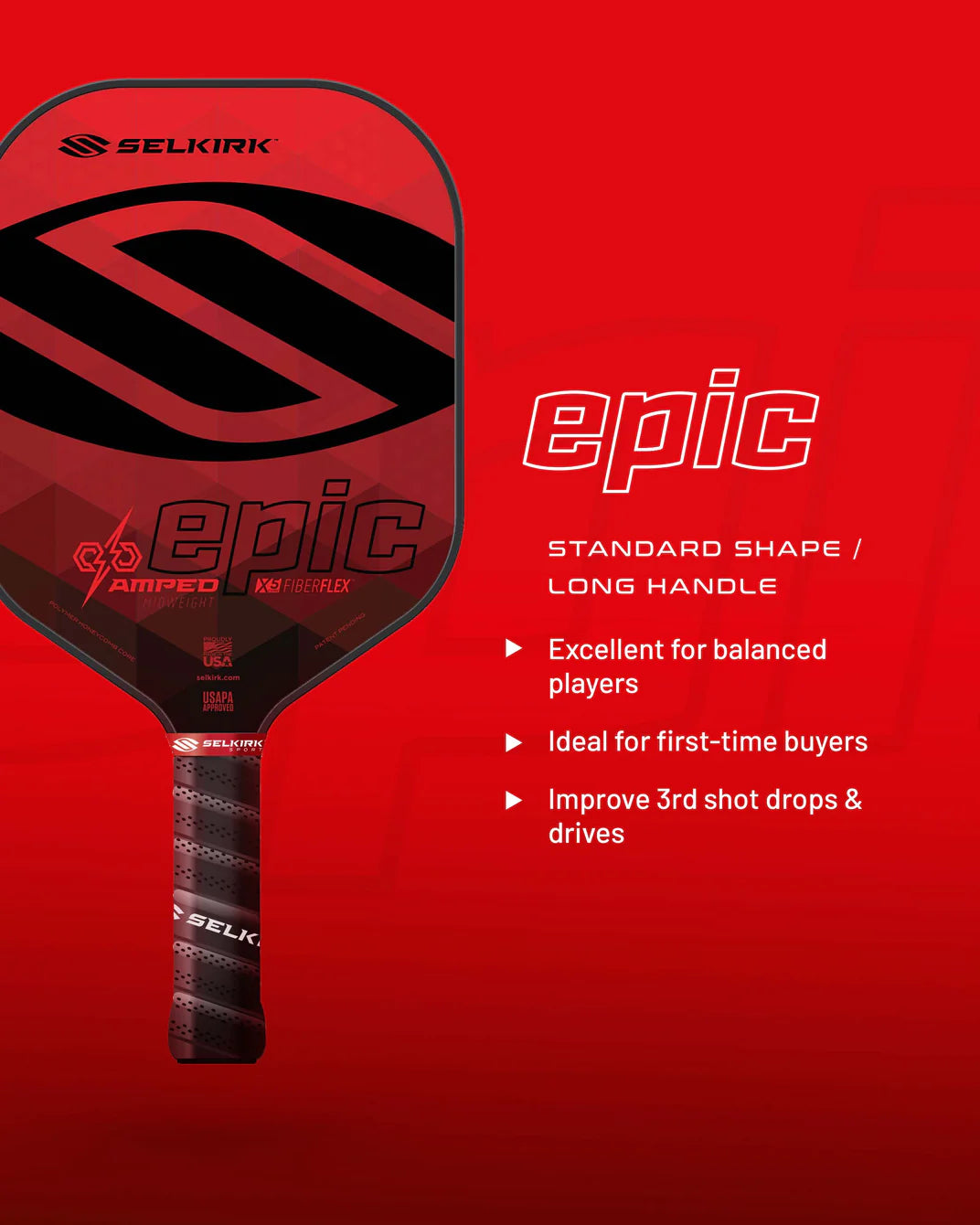 How good is the Selkirk Amped Epic Pickleball Paddle?
Among the hundreds of Pickleball Paddles available on the market, the Selkirk Amped Epic Pickleball Paddle ranks consistently among the best. What makes the Selkirk Amped Pickleball Paddle so good? Power and Control, two attributes most people are looking for. The Amped Epic offers both in plenty without sacrificing feel and playability. 
Construction:
The Selkirk Amped Epic is constructed with a polymer core and a Fiberglass face. This combination offers a perfect balance of power and control. The combination of the polymer core and the FiberFlex Fiberglass technology creates an excellent paddle surface that produces spin, while enhancing control provides a larger sweet spot and increased power. The paddle has a unique X5 honeycomb core that enhances the power and control of the paddle.
Design:
The paddle has a sleek and attractive design with a matte finish. It comes in a variety of colors including blue, red, green, purple, and black. The paddle features Selkirk's EdgeSentry technology which provides added durability and protection against impact.
Size/Weight:
The Selkirk Amped Epic measures 16 inches long and 8 inches wide, which is the standard size for a pickleball paddle. It has a medium grip size of 4.25 inches in circumference, which is suitable for most players. It weighs between 7.3 and 8.3 ounces, which is relatively lightweight and easy to maneuver.  It is available in two weight categories:  Lightweight (7.4 - 7.8oz.) and Midweight (7.9 - 8.4 oz.)
Performance:
The Selkirk Amped Epic offers exceptional performance on the court. The X5 honeycomb core provides a lot of power on shots. The paddle has a great balance of power and control, allowing players to place shots accurately and with pace. The EdgeSentry technology also ensures that the paddle can withstand heavy impact and last for a long time.
Conclusion:
In conclusion, the Selkirk Amped Epic is an excellent paddle for intermediate to advanced players who want to take their game to the next level. It offers exceptional performance, durability, and design. The combination of a polymer core and Fiberglass Fiberflex face provides a great balance of power and control, making it an ideal paddle for players who want to hit hard shots while still maintaining control. The paddle is a bit on the expensive side, but the performance and durability make it a worthwhile investment for serious players.
Order the Selkirk Amped Epic Pickleball Paddle Online or visit our store in Schaumburg, IL to try one.