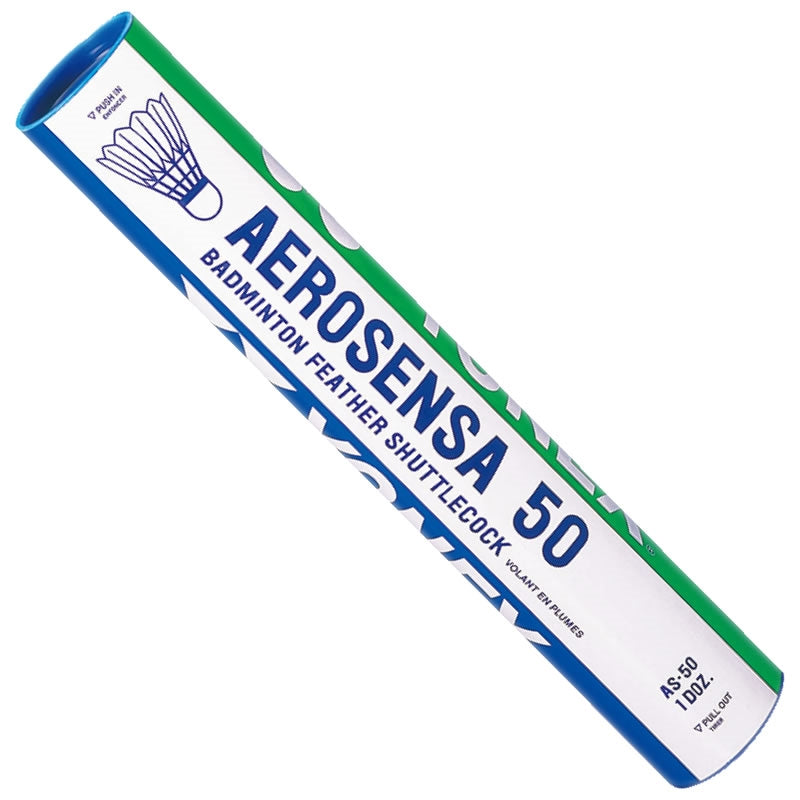 How to Pick the Right Badminton Shuttlecock
There are so many different types of shuttlecocks to choose from - making a decision can be overwhelming. Some birdies use natural feathers, synthetic feathers, nylon and more. To make it easier for you to pick the right one, we have broken it down to a few simple features and your own skill level to make the correct choice!
Factors to Consider
Durability
Depending on your skill level, you may want to consider the durability of a shuttle. The longer a shuttle will last, the more you can play with it before replacing it. For beginners, this is a good option because you will save more money when playing badminton while starting to learn the sport.
Flight Speed
Shuttlecocks are built differently and thus they all have their unique speeds and spinning patterns. Depending on where you are in the world or where you are playing, you may want to consider the different speeds of the shuttles to find one that works best for your location. Some birds might be too fast for a specific gym, while another may fly too slow.
Material
Are you looking for a professional grade shuttlecock (normally made out of goose feathers) or are you looking for something more recreational? Depending on what you want, you may opt for high-quality shuttlecocks made out of natural products versus something created synthetically.
Best Shuttlecocks for Beginner Players
The best shuttlecock for beginners is the Yonex Mavis 300 Nylon Shuttlecocks. These are extremely affordable nylon shuttlecocks that are also very durable. These are the iconic yellow shuttles that you may see many people playing with at school or at the park.
These come in two different speeds, pick up a tube here!
Slow Speed: https://www.badmintonwarehouse.com/collections/yonex-badminton-shuttlecock/products/sm300ys
Fast Speed: https://www.badmintonwarehouse.com/collections/yonex-badminton-shuttlecock/products/sm350wf?variant=21905264199
Best Shuttlecocks for Intermediate Players
For intermediate players, we recommend the Victor Champion 1 Shuttlecock. These are made out of natural feathers and have a predictable speed with decent durability. For its price, we like it as a shuttle for intermediate players!
Another alternative option would be the Wilson Pro 80 Badminton Shuttlecocks. Although primarily a tennis company, Wilson does create very solid badminton gear as well. Their shuttlecocks are definitely worth giving a try for intermediate level players.
Best Shuttlecocks for Advanced Players
For advanced players, we highly recommend any of the Yonex Aerosensa series shuttles, from AS-30 to AS-50. Specifically, the AS-40 and AS-50 shuttles are BWF approved for tournaments, but the AS-30 shuttles are also a great choice for training or sparring matches with your playing partners. These shuttles are all extremely high quality and are used by professional players around the world - pick up a tube here on Badminton Warehouse!
AS-30: https://www.badmintonwarehouse.com/collections/yonex-badminton-shuttlecock/products/yonex-as30-badminton-shuttles?variant=21905392583
AS-40: https://www.badmintonwarehouse.com/collections/yonex-badminton-shuttlecock/products/yonex-as40-badminton-shuttles
AS-50: https://www.badmintonwarehouse.com/collections/yonex-badminton-shuttlecock/products/yonex-as50-badminton-shuttles
If you are looking for a relatively cheaper option for high, professional grade shuttles, we would also recommend the Lingmei shuttlecocks. These are also BWF approved for tournaments and are a great option to use during your practice or sparring sessions. Pick them up here:
Lingmei 80 Shuttlecocks: https://www.badmintonwarehouse.com/collections/bwf-approved-shuttlecock/products/lingmei-80-badminton-shuttlecocks?variant=16086516760694
Lingmei 90 Shuttlecocks: https://www.badmintonwarehouse.com/collections/bwf-approved-shuttlecock/products/products-lingmei-90-badminton-shuttlecocks?variant=32226306687094