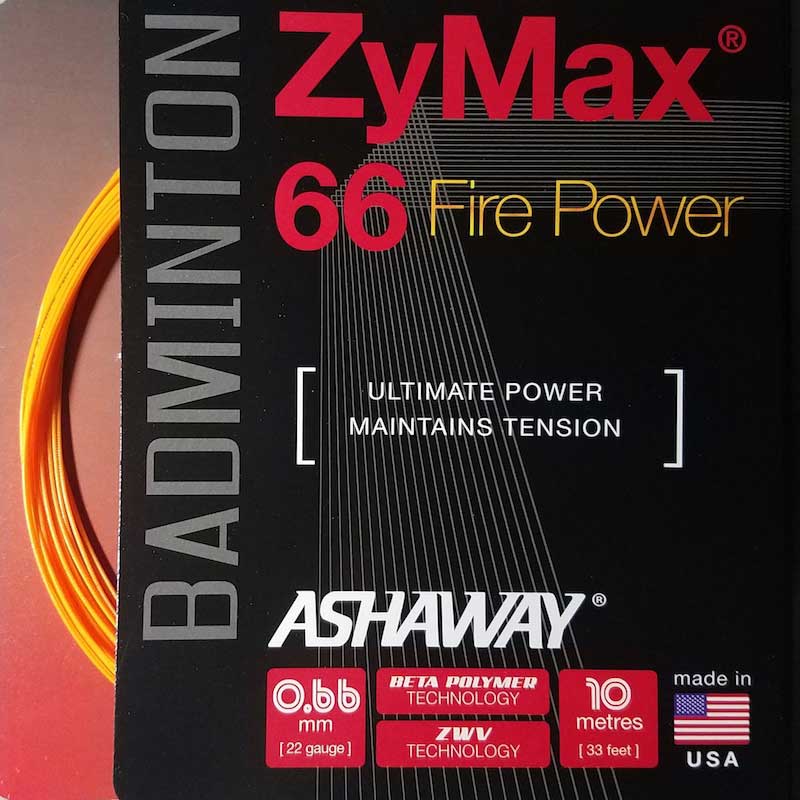 How to Pick the Right String For Me: A Beginner's Guide
Rackets aren't the only thing you need to play badminton well. Though they may not seem significant, the strings you choose to use with your racket are just as important. Coupling the right string with the proper string tension will help you take full advantage of your racket, skills, and techniques. In this post, we will cover some string recommendations for players of different levels.
How to pick the right string brand?
There is no "right" string brand for a single player, it all comes down to personal preference and feel. However, we hope to give some suggestions to help make your choice a little easier. Beginner players may prefer strings that are more durable and have greater repulsion. to save money on restringing costs and help them hit the bird easier across the net. Advanced players on the other hand may look to have strings that help them have more control and use their skills more precisely, as they are able to generate the power themselves.
How to Pick the Correct String Tension?
Along with picking the right string, you will also need to decide what string tension you want to string your racket at. String tensions can range anywhere from 17lbs to over 30lbs for professional level players.
As a general rule of thumb, the lower your string tension, the easier it is to generate power with a small swing (more repulsion) but the harder it is to control your shots. Likewise, the higher your string tension, the more control you will have on your shots but the harder it is to generate power with a hard swing.
Again, this will come down to personal preference and your playstyle, but more beginner players will opt to use a lower string tension while higher level or professional players will opt to use a higher string tension. This is why when you watch professional matches, the sounds of their shots may have a much higher pitch and sound "cleaner".
Which String is Right For Me?
Best Badminton Strings for Beginners
Our favorite badminton string for beginners is the Yonex BG65 Badminton String. It's a well-priced string at only $8 with an emphasis on durability. Beginner players will take joy in being able to play with the same racket and string longer without having to bring it in for more re-stringing sessions.
Best Badminton Strings for Pros
Our choice for the professionals and international players is the Yonex BG 66 Ultimax. This string is on the much thinner side, but will help with your control and skill shots. It also has decent durability and repulsion to help you play and practice more power shots. If you are a level to start using the Yonex BG66 Ultimax, we recommend purchasing the full reel to save money with a bulk purchase.
Best Badminton Strings for Less Breaking
Our choice for the badminton string that carries the best durability is the Yonex BG68 Ti Titanium.  The titanium coating on these strings makes it extra-durable at only a slightly higher cost than the Yonex BG65 Strings (priced at $11).
Best Badminton Strings for Overall Performance
Our choice for the badminton string that has a well-rounded overall performance is the Yonex BG80 Power.  This string is slightly thicker than the Yonex BG66 Ultimax, with high repulsion, great durability, and a sharp feeling.  It could be used by beginners and pros alike for great performance on the court.
Best Badminton Strings on a Budget
Our choice for the best budget badminton strings is the Ashaway Zymax 66 FirePower. Yonex is not the only brand that has lines of badminton strings and Ashaway is a great alternative! At only $7.50, the Ashaway Zymax 66 Firepower can help provide you greater power in your shots without sacrificing any durability. This is a great string if you are looking to save some money.
Best Badminton Strings - Special Mention
Our new favorite badminton strings are the Yonex Aerobite and Yonex Aerobite Boost badminton strings. These strings are Yonex's first ever hybrid string combo, with different vertical and horizontal strings. The Aerobite Boost features Vectran strings as well, which is a much more powerful string than nylon. These strings are extremely effective for slice smashes and help with touch shots as well. We highly recommend you giving these a try if you have a little more money to spare!