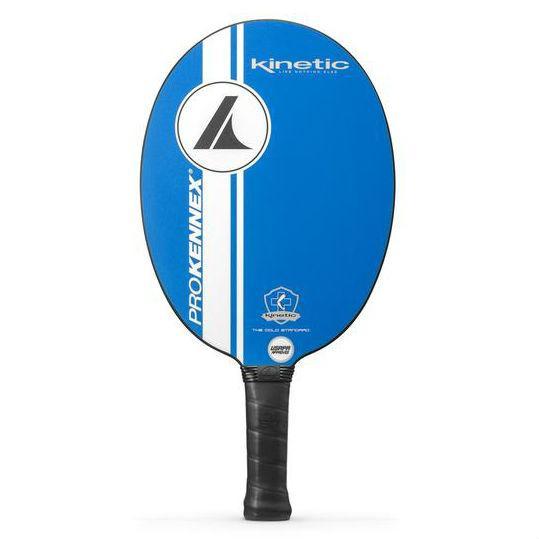 Prokennex Ovation pickleball paddle: A soaring achievement.
Fast facts
| | |
| --- | --- |
| Criteria | Score |
| weight | 8/10 |
| Power | 9/10 |
| Colors | 8/10 |
| Control  | 10/10 |
Perfect for former tennis players looking for a light, snappy and powerful paddle

Patented Kinetic technology prevents tennis elbow from longer play session

s. 

Less forgiving because of  the paddle's low surface area 

Incredible control thanks to the diamond frosted coating allowing for more spin. 
Introduction
The Prokennex ovation flight is a great choice for anyone looking to take their game to soaring new heights. Designed by pickleball champ Steve Dawson, in response to people demanding a lighter, snappier paddle, the Ovation flight delivers on an incredibly lightweight design, without sacrificing the ability to land those rally-ending power shots. 
On top of this, the paddle shares its DNA with other paddles in the Prokennex lineup and all the great features that come with it. From the diamond frosted coating that allows for more spin, to the replaceable Air- o-guard that allows you to keep the same paddle no matter how hard you play, and who could forget the kinetic technology that absorbs impact from shots so that you don't wake up with a sore elbow the next day? All of this is packed into an edgeless aerodynamic paddle that cuts the air like a katana. 
Surface area: 
Much like its cousins in the ovation line, the ovation flight is an oval-shaped paddle that is aimed at those who love tennis or ping pong. This does have the downside of having a little less surface area to work with because it doesn't have corners. So it may not be the ideal paddle for people who haven't played a similar sport before . On the bright side, this design allows for a greater concentration of mass along the center axis which in turn allows for greater maneuverability.
Weight:
Unlike the speed series, the ovation flight paddle is light. Noticeably so, and if you are accustomed to a heavier paddle, you will miss a shot or two because you will need to readjust your timing. The Prokennex ovation speed series<insert link here> typically has paddles ranging from 7.7 ounces to about 8.1 ounces but the pro kennex ovation flight has paddles ranging from 7.3 ounces to 7.6 ounces. This comes from its carbon fiber construction that utilizes honeycomb-shaped patterns that make it lighter without sacrificing durability.
Colors: 
The paddle is available in the three most popular colors, blue, pink and red. Which while these colors don't offer much in terms of performance advantages, the cosmetic variety is appreciated. 
Conclusion
All in all, the Prokennex ovation flight is an excellent paddle for those who are from a tennis background and want something light and snappy for their next game. Its kinetic technology will help take a lot of the edge off those long matches on sunday evenings and its overall design is top notch. One could say this paddle deserves...a standing ovation.