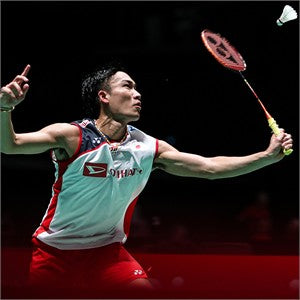 Yonex Astrox 99 Badminton Racket - Supercharged badminton racket from Yonex
Yonex delivers yet again!  Introduced in 2018, the Yonex Astrox 99 badminton racket is the racket of choice of current World No. 1 and defending All England champion Kento Momota.  Namd, a graphite that produces more flex and a faster snapback, lets ASTROX badminton rackets unleash dramatic power. An innovative design like the new Energy Boost Cap maximizes Namd's advantage, giving you more flex on the front of the shaft while helping to stabilize the racquet face on every shot.
Namd which is a uniquely flexible graphite designed to increase frame torque. From the baseline this badminton racket feels comfortably crisp on contact. It also feels a tad stiffer than the Astrox 77.  Full swings find their mark with ease, and there is more than enough velocity to bring the shuttle down hard.  The Astrox 99 feels solid, with plenty of touch for dropping the shuttle short. 
Yonex Astrox 99 badminton racket is an obvious choice for intermediate and advanced players who value speed, power, and precision. In the opinion of the expert staff here at Badminton Warehouse, the Astrox 99 badminton racket is on par with the Yonex ZForce2 badminton racket, a long time favorite of the attack-minded badminton player. It has similar characteristics as the ZForce 2 with perhaps the added advantage of a regular sized frame for a larger sweet spot.
Badminton Warehouse has all of the Astrox Badminton Rackets in stock and available to ship within 24-48 hours. Badminton Warehouse is an authorized dealer of Yonex USA.