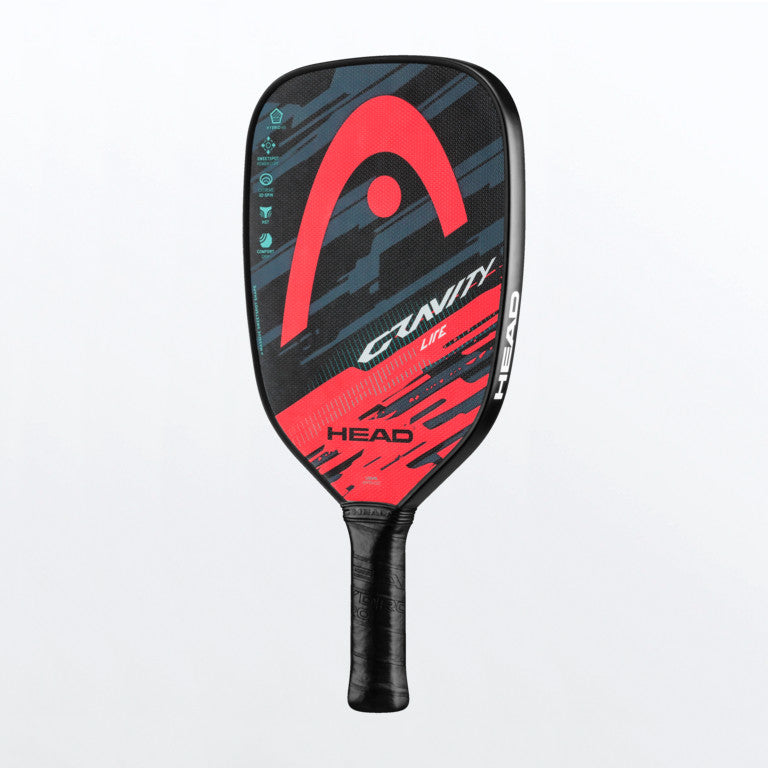 Head Gravity Lite Pickleball paddle: Head and shoulders above the rest
| | |
| --- | --- |
| Weight:  | 8/10 |
| Color:  | 10/10 |
| Power: | 10/10 |
| Control:  | 9/10 |
Composite fiber and graphite hitting surface gives incredible control and durability to the paddle for a light weight
The surface is larger and thicker than other paddles in the head line-up
The surface is textured with triaxial patterns for better spin. 
The handle is made of Eva material that makes it perfect for tennis players
The sweet spot is larger than most paddles and hence this makes the paddle very beginner friendly
Head and Shoulders above the rest:
The Head Gravity Lite is an excellent choice for those looking to have a little bit more spin to their shots but prefer something lighter and whippier
Rest assured, all of Head's excellent engineering has gone into this paddle to make it one of the best paddles on the market.  From its expanded sweetspot to make every serve and volley feel good, to its textured surface to add and spin to every shot. But without a doubt what makes this paddle unique is its hybrid hitting surface that marries the worlds of composite fiber and graphite for incredible power for a low weight and an 4 ½ inch Eva material grip that helps dampen the vibrations of each shot. 

Surface area: 
The hitting surface is a hybrid of composite fibres and graphite. This provides an incredible sense of control and durability for a paddle that isn't breaking the weighing scale. What's more the surface is textured with triaxial patterns that grip the ball mid flight and add an incredible amount of spin to the ball on every shot guaranteed.  Couple this with an expanded sweet spot due to the thicker low density powercore and you have an incredibly forgiving paddle for beginners and an excellent paddle for professionals. 
Unlike Head's other offerings the paddle surface is wider and longer.
Weight: 
The paddle is on the lighter end of the scale at 7.6 ounces as compared to the standard Head Gravity's 8.1 ounces.. While paddle weight is a matter of preference, the lighter paddle is the kinder choice for your elbow and whipper in your hand. 
Colors: 
The Head Gravity Lite is available in two beautiful dual tone designs: a dark blue and grey and a louder crimson and teal. It should be noted that several users have found that paint on the paddle wears quickly  but rest assured that this doesn't affect the incredible performance of the paddle in any way shape or form. 
Conclusion: 
The Head Gravity Lite is an excellent light paddle for both beginners getting into pickleball for the first time and for veteran 5.0 players looking to bring that extra bit of spin to their next game. The paddle is packed to the bottom of the handle with technology to boost performance and comfort. The Eva material in the handle makes it an excellent choice for former tennis players who would rather not feel something alien in their hands when they stand at that kitchen line. 
Pick up your Head Gravity Lite Paddle here and get ahead!