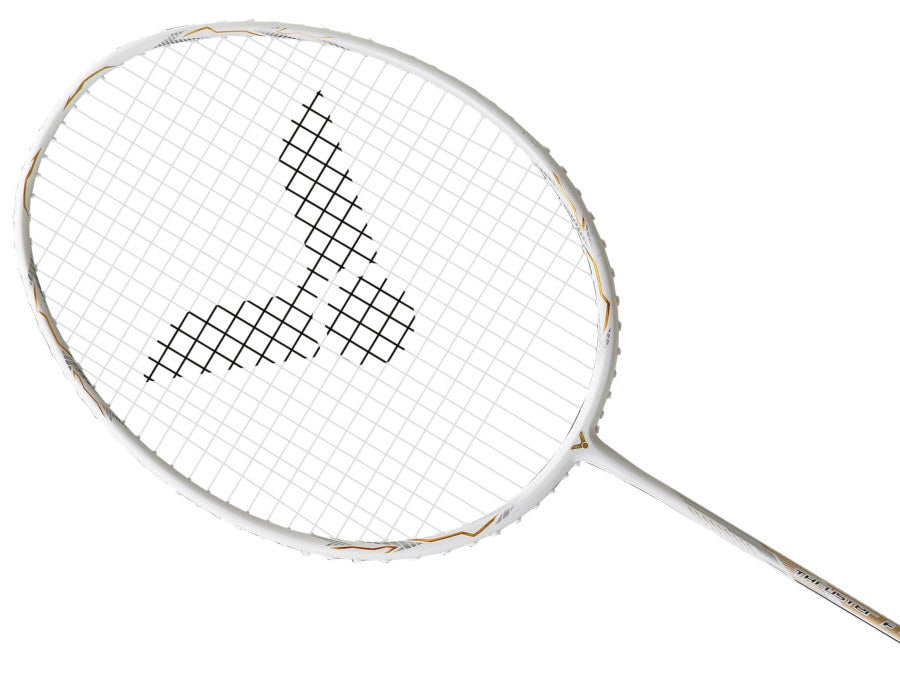 How good is the Victor Thruster F-Claw (White) Tai Tzu Ying Badminton Racket?
Tai Tzu Ying started using the Thruster TK-F badminton racket in 2018 and since then it has become a bit of a sensation. Building on the success of the original TK-F, Victor has introduced the Thruster TK-F Claw badminton racket  VICTOR further launches TK-F C this year. As a new addition to the TK-F family, TK-F C not only inherits the specifications, but also comes with an isometric head, large head size, 72-hole design, and 4U weight configuration. The sturdy, accurate, and comfortable hitting experience makes it undoubtedly the best choice for Tai.
To continue Tai Tzu Ying's way toward excellence, VICTOR is proud to introduce the enhanced edition of TK-F C. With eye-catching matt white coating and a gold-stamped watermark sticker that symbolizes the champion's glory, TK-F C enhanced edition brings its own noble qualities and is ready to shine on the court with Tai.
TK-F C enhanced edition does not just achieve a breakthrough on the outside with its gold-plating design, but it's also upgraded in every functional way! The hitting experience brought by TK-F series has been highly praised by all the badminton fans out there, not to mention that it's also Tai Tzu Ying's designated racket. It goes without saying that the evolved version of TK-F C would be greatly anticipated. The key point of this upgraded racket focuses on the outstanding hitting experience created by the elaborate combination of material and related technologies. 
Among all those high-end materials and technologies built in TK-F C, the first feature to watch is REBOUND SHIELD. Undergoing long-term development and repetitive tests, REBOUND SHIELD is proven to effectively enhance the hitting performance of TK-F C enhanced edition. The original TK-F C has already possessed the ideal strength and characteristics in Power Type rackets. The main upgrade is to create additional elasticity and better handling feedback. REBOUND SHIELD combines highly resilient and durable glass fiber with multilayered frame design, enabling not only powerful hits but also incredible flexibility and comfort.
The shaft and the frame both have an overall upgrade. The original ANTI-TORSION slim shaft is further reinforced with a diameter of 6.5mm, which increases the strength by more than 4 times to achieve more stable and accurate hits. Furthermore, the racket frame is built with NANO FORTIFY TR instead of PYROFIL to provide greater resilience and shock-absorption.
TK-F C enhanced edition is a perfect combination of the three major enhancements above. The relocated balance point (295 to 300mm) and the increased swing weight (83 to 84kg*cm2) all contribute to making it an outstanding attack racket. Generally speaking, TK-F C enhanced edition has a stiff frame and an anti-torsion shaft, making stable net shots easier, and facilitating a smoother force transmission when making clears and smashes. Along with its incredible controllability, TK-F C enhanced edition is definitely the best choice for singles players who excel at alternating clears with drops to create attack opportunities.