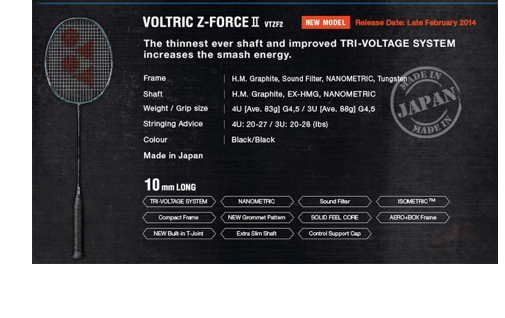 Voltric ZForce2 Badminton Racket, power exemplified
First impressions
Introduced in 2014, the Voltric Z Force 2 badminton racket is a head heavy racket with a slim extra stiff shaft.  This badminton racket is elegant, without the flashy design and vibrant color of the other badminton rackets from Yonex. It is almost full black with some blue decals. The fact that it is still in the Yonex catalog speaks volumes about its popularity. The Tri-voltage system combines the contrasting characteristics of a head heavy powerful racket with light and fast racket handling.  This frame also comes with a tungsten grommet strip system for extra string stlability. The Malaysian superstar Lee Chong Wei used the Voltric Z Force 2 badminton racket for a long time. Yonex also introduced the Voltric ZForce 2 LCW – a special edition frame for a short time.  The blend of matte/black and neon/blue looks attractive.  We tested the 4U4 version of the racket over a 2 week period.
Smash - 9.8
The ultra-aerodynamic head shape with the blend of the stiff shaft provided a tremendous power resulting in accurate, steep angled smashes.  Our experts were able to execute stick smashes as well as full smashes with ease. The Z Force 2 performed exceedingly well in the four-corner test.   Our team gave a near perfect 9.8/10.
Drop- 8.5
The compact head helped to minimize resistance and the extra stiff shaft allowed precise and accurate drop shots.  While it took a bit of time to get used to, upon increased use, the Voltric ZForce 2 was quick to maneuver while executing soft drop shots. Our team tested several variations of the drop including the cross drop, slice drop, reverse drop and even the backhand drop.  Our team gave the Z Force 2 8.5/10 for drops.
Clear - 8.2
It was easy to clear with Yonex Voltric Z Force 2 as the frame has been designed with a smaller compact head and slim shaft for quicker speed swing.  The tri-voltage systems worked very well imparting adequate power on clears.   Our experts opined that they could control their clears but precision could have been better.  This slight issue could be attributed to the smaller head size and can be worked over in time as players get used to playing with this frame.
Drive - 9
Drives are an important aspect of your game wether you are playing singles or doubles.  Our team could hit hard, flat drives to the opponents' backline with the Voltric Z Force 2.   The extra stiff shaft added to the control.  Our experts scored the Z Force 2 at a 9/10.
Defensive Lift - 8.5
Defensive lifts are an important shot in a player's arsenal and is quite often used to extend rallies to win crucial points. Our experts felt that the Zforce 2 is a good racket to play defense with.  Lifts were easy to execute and the maneuverability of the frame helped to move the frame back in position faster to return the opponent's next shot.
Net Kill - 8.0
Net kills are difficult to execute requiring incredibly fast racket speed and swing.  The  Voltric Z Force2  badminton racket, with its heavy head, is not ideally suited for perfect net kills.  Our experts could still achieve excellence with the net kill. Our experts gave a score of 8 for net kills.
Summary
The Yonex Voltrix ZForce badminton racket is most suitable for the advanced player. Beginners and intermediate players will find the compact head and head heavy frame difficult to use and control. The Duora series, Nanoray or the newly introduced Nanoflare series badminton rackets might be better options for them. For the advanced player though with proper technique, this racket is a delight and fun to use.